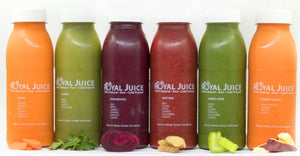 7 Day Detox Cleanse
Regular price R 1,499.00 Sale
Feeling tired and run down? Maybe it's time to reboot your body with a detox!
Reset your system with our highly effective advanced 7 Day Detox Cleanse program - you will feel lighter, happier and more energetic!  
During your 7 day detox you will drink a total of 6 juices per day for 7 consecutive days.                         
Our 7 Day Detox Cleanse Program consists of 42 juices: 
7 x Energy Boost Juices (Breakfast)
7 x Glow Juices (Snack time)
7 x Green King Juices (Lunch)
7 x Endurance Juices (Snack time)
7 x Restore Juices (Dinner)
7 x Purify Juices (Night snack time)
1 x Free Royal Detox Program Guide
(Juices - 300ml each)
All of our products are blast frozen immediately after being cold pressed, to lock in the nutrition, freshness and flavour!