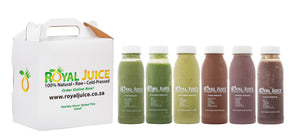 30 Day Healthy Lifestyle Smoothie Package
Regular price R 1,450.00 Sale
Whether you are looking for some delectable smoothie in your daily diet, our fiber and protein rich smoothies will keep you feeling full and satisfied.
Incorporate our smoothies into your daily diet or use as a meal replacement. Our 30 Day Healthy Lifestyle Smoothie package includes the following super nutritional smoothies. Add to your daily diet and experience the amazing health benefits!
Our Healthy Lifestyle Smoothie Package consists of:  
5 x Energize Smoothie
5 x Nutri Green Smoothie
5 x Power Smoothie
5 x Elevate Smoothie
5 x Super Green Smoothie
5 x Trim Smoothie
(Smoothies - 300ml each)
All of our products are blast frozen immediately after being cold pressed, to lock in the nutrition, freshness and flavour!