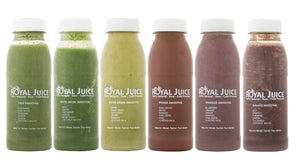 6 Day Smoothie Challenge
Regular price R 1,899.00 Sale
Boost your energy + lose weight, naturally.
If you are looking for help on your weight loss journey, our fiber and protein rich smoothies will keep you feeling full and satisfied while helping lose weight in a sustainable way.
Take our smoothie challenge if you are looking forward to:
During your 6 Day Smoothie Challenge you will drink 6 Smoothies per day. Drink them in the order below for best results.
Our 6 Day Smoothie Challenge consists of 36 smoothies:  
6 x Energize Smoothies (Breakfast)
6 x Nutri Green Smoothies (Snack Time)
6 x Power Smoothies (Lunch)
6 x Elevate Smoothies (Snack Time)
6 x Super Green Smoothies (Dinner)
6 x Trim Smoothies (Snack Time)
(Smoothies - 300ml each)
All of our products are blast frozen immediately after being cold pressed, to lock in the nutrition, freshness and flavour!