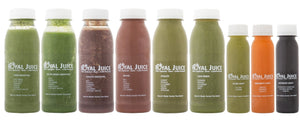 6 Day Dietox Weight Loss
Regular price R 1,699.00 Sale
Ever wanted to do both a detox and a diet in one to reset your gut health and LOSE WEIGHT? We have the answer!
Our Dietox juices, smoothies and shots do not contain any fruits - it combines the benefits of a diet and a detox giving you the ultimate in nutrition while cleansing your body from unwanted toxins and lose weight.
During your 6 day Dietox Weight Loss journey you will drink a combination of 3 x Juices and 3 x Smoothies per day. In addition to this you will start your day with 1 x Shot
Our Dietox 6 Day Diet-Detox Weight Loss Package consists of 18 juices + 18 smoothies + 6 shots:
6 x Vitality Juices
6 x Lean Green Juices
6 x Revive Juices
6 x Nutri Green Smoothies
6 x Trim Smoothies
6 x Elevated Smoothies
2 x Antidote Shots
2 x Elixir Shots 
2 x Immunity Shots
1 x Free Royal Dietox Program Guide
(Smoothies and Juices - 300ml each)
(Shots - 100ml each)
All of our products are blast frozen immediately after being cold pressed, to lock in the nutrition, freshness and flavour!